C5 / A5 PiP Board Backed Envelopes BULK PALLET QUANTITIES (30,000)
Product Code: BBENV-C5-BR-PIP#30000
£2,020.50

£2,424.60 inc VAT
Orders placed after 3.00 pm may not be shipped on the same day
To find your shipping zone, simply enter your delivery postcode in the box below & click on the search icon (magnifying glass) Either check the colour with the legend on the right - or simply click on your address and you will be told in which shipping zone you are located.
Once you have your Zone, please select it from the Shipping zone selector above.
This section of our website, will alow you to purchase our C5 A5 Board Backed Envelopes in bulk quantities.
The Hard Backed Envelope quantities above are listed without shipping, as the envelopes will be shipped to you on a pallett, and we are therefore unable to automate shipping rates.
Strong C5 PiP Board Backed Envelopes - SAVE £££'s On Postage Costs! These Pricing In Proportion Envelopes Qualify As Small Letters -
DEFENDA C5 PiP Size - Although these envelopes are smaller than traditional C5 / A5 Board Backed Envelopes they are designed to maximise the small letter category under Royal Mail's Pricing in Proportion guidelines. They are ideal for many sizes of photographs etc and will help you make massive savings on individual postage costs. Printed with Do Not Bend in red. (UK Manufactured)
Heavy Duty Peel & Seal Board Backed Envelopes
C5 Hard Backed Envelope Weight 31.6g appx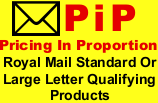 C5 PiP Board Backed Envelope Postage Category: Standard / Small Letter
Shipping Rates & Upgrades